The Best Orthodontic Care in Ohio
Welcome to Hutta & Price Orthodontics! At our office, we're passionate about offering the very best orthodontic care in Ohio. Dr. Hutta, Dr. Price, and our entire team are committed to helping you achieve the smile of your dreams through dental braces, Invisalign®, and other services. Over the years, we've helped thousands of patients align their teeth for the perfect pearly whites. We partner with local dentists across the Columbus area, including the city of Bexley, to continue to provide top-tier service to as many as we can. We're thankful for each and every member of the Hutta & Price smile family, and we'd love to welcome you through our doors!
We're proud to carry the finest technology in orthodontics right here in our office. The scanners, 3D printers, and high-tech systems that we use every day allow us to provide the advanced and highly effective dental services that we offer. Our JUELL 3D-2 printer, digital X-rays, and the iTero Element Intraoral scanner are just some of the cutting-edge devices that help make the beautiful smile results that we provide possible. We are always searching for ways to do more and advance further for our patients, and these tech systems help us to do just that.
Our Services
At Hutta & Price, we're always striving to go above and beyond when it comes to the types of services we provide. After decades of combined experience and education, Dr. Hutta and Dr. Price know exactly what dental treatments are the safest, most effective, and most advanced. With options like Damon Braces, Invisalign, and Smile Touch-Up, our patients love their treatment results! Every patient and every smile are unique. That's why we create individualized dental treatment plans for every patient. At your first consultation, we'll assess your alignment needs and goals, and design a plan for your smile journey.
Damon Braces
The Damon Braces system is an excellent example of the best modern advancements in orthodontics! Gone are the days of pesky elastic braces bands. Damon Braces uses a sliding door mechanism to shift the teeth into place. The braces also include special thermal technology that works with the heat of your body during the alignment process. Patients can also expect a faster and more hygienic smile journey than with traditional dental braces.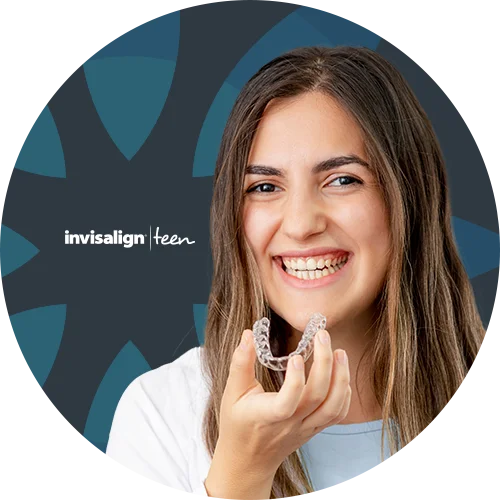 Invisalign
Patients love Invisalign for the discretion and convenience it provides! This alignment system uses a series of dental trays that work to shift your teeth into place over time, with no use of wires unlike traditional braces. These Invisalign trays are custom-made for your smile journey, providing beautiful results every time. They are also easily removable, meaning you can pop them in and out to eat, avoiding the food restrictions that come with braces. Their clear material makes them almost completely undetectable, which makes Invisalign a popular choice.
Smile Touch-Up
The Smile Touch-Up with Invisalign system is a great option for patients that only need minor corrections or have previously aligned teeth that have shifted. This system uses Invisalign trays that are printed right here in our office with advanced dental scanning and 3D modeling technology. It also requires fewer appointments and costs less than traditional Invisalign or braces.
We've worked hard to create a warm and welcoming environment for kids! Our orthodontists want to ensure that no matter the age, our patients are not just willing but excited to care for their oral and orthodontic health. The American Association of Orthodontics recommends that children have their first consultation with an orthodontist at age 7, or earlier if any issues arise. This allows us to track their jaw and dental growth and development so we can tackle any issues before they progress and pinpoint the perfect time to start braces.
If your child does not yet require braces, we welcome them to join our office Growin' Grins Club! This club helps our young patients to become comfortable with and excited about the process of orthodontics and braces as we monitor their smile and celebrate them with contests, goodie bags, and parties.
The decision to align your smile is an investment in your health and self-confidence at any age! Thanks to modern orthodontics and dental advancements, choosing to make that investment as an adult has never been easier. Options like Invisalign and Smile Touch-Up make the treatment process discreet and convenient. Our alignment services won't get in the way of your life, but they will improve it!
Healthy Teeth Alignment, Happy Smile
While the confidence of a beautiful smile can certainly be life changing, the importance of aligned teeth is more than just cosmetic! Proper alignment is important for your dental health as well. The field of orthodontics is a specialized type of dentistry that focuses on creating the right placement and foundation for your oral and dental health with braces and other alignment services. Proper alignment makes your teeth easier to clean and less vulnerable to wear and tear from everyday use. Dental care is a vital part of any patient's alignment journey.
In addition, proper jaw and tooth alignment helps put your jaw muscles at ease. An unhealthy bite can put strain on your jaw that may lead to temporomandibular disorders, which can be a painful condition. Proper dental care and alignment ensures a healthy and happy smile!
Ready to enjoy all the benefits of a healthy, aligned smile? Book your first appointment with our Columbus office today! If you don't have time to fit a full consultation into your busy schedule, we offer virtual consultations so you can start your smile journey on your own time. With just a few photos and some information about your alignment needs and cosmetic goals, Dr. Hutta and Dr. Price will begin developing your treatment plan.
BOOK A CONSULTATION WITH AN ORTHODONTIST TO GET STARTED TODAY!
In-person consultation
When you come into the office for your orthodontic consultation, our Ohio team will thoroughly evaluate your smile, teeth, jaw, and face. After discussing your goals and dental health history, Dr. Hutta and Dr. Price will devise a custom treatment plan and explain everything you need to know about braces or clear aligners, like Invisalign. Every consultation is an experience where you can learn, ask questions, and discuss any dental concerns you may have.