For some patients interested in orthodontic treatment, clear aligners are an ideal choice. Invisalign can transform your smile and teeth—without the dental hardware or temporary lifestyle changes associated with braces! Hutta & Price Orthodontics is one of the most popular practices for this treatment in central Ohio. In the Columbus area, patients trust our name to get the best results in orthodontics and dentistry, and Dr. Hutta and Dr. Price are committed to upholding that standard using this dental aligner technology.
Custom-made for your teeth, Invisalign uses a series of special aligners to transform smiles. In the fields of dentistry and orthodontics, this treatment is growing in popularity for patients of all ages since the equipment is discreet and fully removable. Patients with busy, on-the-go lifestyles appreciate the simplicity that Invisalign offers. During treatment, you can eat whatever you would like—there are no food restrictions like there are with metal braces. And maintaining your healthy dental hygiene routine is also easy, as your teeth are free of obstacles that braces might present when brushing and flossing.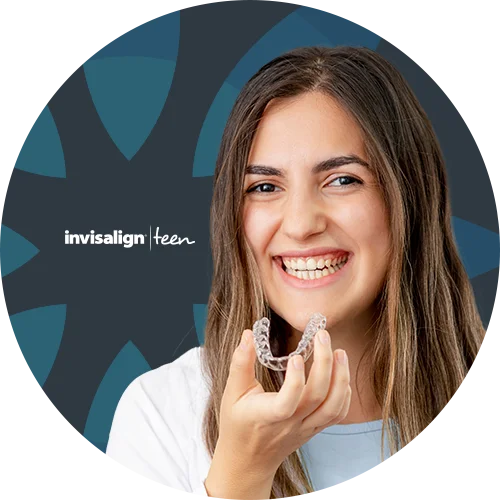 HUTTA & PRICE ORTHODONTICS IS A CERTIFIED
INVISALIGN TEEN PROVIDER
Every teen wants aligned teeth, but no teen wants braces. Dr. Hutta, Dr. Price, and their office are proud to be one of the foremost providers of Invisalign Teen in central Ohio. Compared to braces, which are impossible to conceal, Invisalign is clear, removable, comfortable on the teeth, and personally customized! Best of all, this service comes with blue dot indicators on each aligner to show whether a patient has been compliant with their treatment. That way, when you come visit us in Columbus, we can make sure your treatment is on track.
LIVE YOUR LIFE WHILE
Invisalign Takes Care of Your New Smile
Invisalign's removable appliances allow every teen patient to eat whatever they want while still adhering to their treatment plan and dentistry goals. Just take them out when eating and drinking and make sure you are cleaning them, so they stay clear. Removable aligners also make it easier to practice dental hygiene and keep teeth healthy. When our patients come in for check-ups here in Columbus Ohio, we love to see that they are keeping up with proper oral care.
How Much Does
Clear Aligner Treatment Cost?
Costs vary depending on your dental needs, smile goals, and orthodontic plan. Be sure to talk over details with our office in Columbus and call your dental insurance with any questions.
Payment Options
We offer a courtesy discount on Invisalign or dental braces treatment when paid in full by cash or check
We also offer Smile Touch-Up which is a cost-effective option for patients requiring less treatment
Payment arrangements to coincide with your Flex Plan needs
Most major credit cards accepted
Financing For Treatment Just Got Easier
CareCredit matches people with the best possible financing programs for everything from general dentistry and Invisalign to Ohio home renovations and special events.
Low monthly payments on Invisalign
Instant, in-store approval at our Columbus office
Check rate with NO impact to credit
Secure and easy to apply
Get started from any device!
Dental Insurance
If your dental plan covers orthodontic treatment, you may also qualify for Invisalign. Talk to your dental insurance provider to determine coverage or request information about treatment. If you are a new patient who is interested in this service, contact our office in Columbus to schedule a free consultation.
FAQ FOR INVISALIGN
What is Invisalign, exactly?
Since first being FDA approved in 1998, Invisalign has been one of the most exciting new innovations in dentistry. As the name suggests, this service uses nearly-invisible plastic aligners that are customized to fit your teeth and transform your smile. As you wear a new set every two weeks, the molds ease teeth into their desired position—little by little. Each new Invisalign set brings you closer to your cosmetic and dental goals.
Will Invisalign fit my lifestyle?
Whether you want to close a gap between your teeth, improve your dental health, or fix crooked teeth, Invisalign can help you achieve these goals. With this advanced dental treatment, your life takes center stage. Patients are free to eat what they please, and there are fewer check-ups in our Columbus office. Maintaining dental hygiene is also easy—just practice healthy dental habits at home and follow your regular teeth cleaning schedule with your dentist. If a dental problem like a cavity arises, let us know and promptly take care of it with your general dentist. Wondering whether Invisalign or braces could be right for you? Contact our orthodontic center in Columbus, Ohio and schedule an appointment. We can't wait for you to join our Ohio smile family.
What should I expect?
Invisalign offers a discreet, braces-free treatment that targets cosmetic and dental issues with your teeth, bite, or smile. As a new patient, you may be nervous about visiting our office in Columbus, Ohio. Don't worry! Dr. Hutta and Dr. Price are leading experts in the fields of dentistry and orthodontic care. Plus, this name-brand service has successfully delivered healthy, cosmetic results for patients all around Ohio, and even millions worldwide.