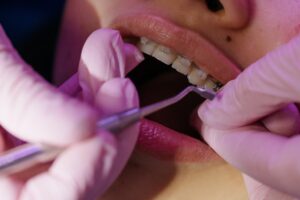 In the past, braces have been associated with teenage years. However, a trip to the orthodontist is suitable for people of all ages—whether you are a 7-year-old child or a 70-year-old patient! Today, we're breaking down everything you need to know about orthodontic treatment based on your age.
WHAT IS THE BEST AGE FOR BRACES?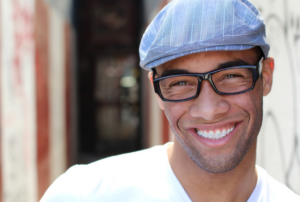 Teeth, jaws, and bites can be improved at any age. And there are clear benefits for doing so—no matter how old or young you are. Some of these benefits are…
– To improve dental health
– To reduce pain or discomfort
– To help with teeth function, like speaking or chewing
– To boost confidence
– To optimally position each tooth and your bite
While everyone at every age can benefit from a trip to the orthodontist, if you have a child, we do recommend bringing them in early.
TEETH OVER TIME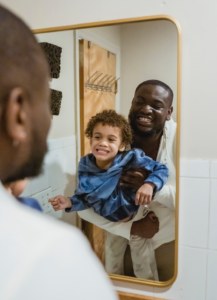 Over time, the teeth and jaw undergo changes—for children and adults. For a child, these changes include transitioning from baby to adult teeth and completing jaw growth. Without intervention, teeth may become crowded, misaligned, or uncomfortable. Getting braces or appliances as a child can promote a lifetime of better dental health and prevent many of these problems from arising.
If you are an older age and have never visited an orthodontist, choosing braces or aligners also can prevent future issues. For adults, the jawbones continue to narrow with age. This can cause teeth to migrate and become more crowded or misaligned, leading to poor dental hygiene, discomfort, and issues with the bite.
GETTING TREATMENT AS A CHILD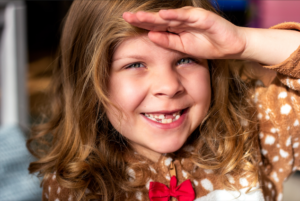 Wondering when to bring in your child? According to the American Association of Orthodontists, the best age for a child to visit the orthodontist is 7. This may seem young to some parents. However, orthodontic care has evolved tremendously in recent years, allowing an orthodontist to intervene preventatively for your child's comfort and dental health.
Even if your pediatric dentist does not notice a problem with your child's teeth or bite yet, it is still a good idea to book an appointment with an orthodontist. At that age, an orthodontist has the extensive training to spot problems and even prevent some from developing. We offer a complimentary program called Growin' Grinz in our office, where we monitor your child's dental development and provide checkups. Your child will love Growin' Grinz's free events and swag bags; you'll love knowing that their teeth, jaw, and dental hygiene are set up for success!
INTERCEPTIVE ORTHODONTIC TREATMENT
With advanced imaging and thorough, comprehensive care, Dr. Hutta and Dr. Price can identify potential problems before they worsen or develop. If your child is a good candidate, interceptive treatment may be an option. While kids are still growing, we can help influence jaw, palatal, and facial growth to set up your child for success. Using appliances like braces or palatal expanders, an expert orthodontist can expand the dental arch, improve the airway, prevent adult teeth from crowding, and reduce the chances that your child will need extractions.
TEENAGERS AND BRACES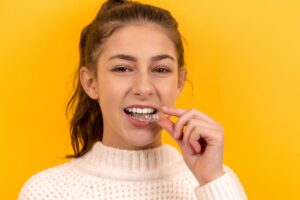 Teenagers want a gorgeous, healthy smile—without treatment slowing them down or standing out on their teeth. In the hands of our expert orthodontists, braces are less noticeable and work more efficiently and comfortably. Depending on the needs of your teen child, clear aligners may be an option.
INVISALIGN® FOR TEENAGERS
In the age of social media and selfies, your teen may be self-conscious about braces. For teens who want the most discreet transformation, Invisalign may be right for them. These trays fit perfectly to teeth and gradually transform smiles—tray by tray. However, since they are removable, they do require extra compliance.
Because life is busy, if teens begin to get noncompliant with their aligner wear time, we intervene—before it negatively impacts their teeth. Invisalign for teens comes with blue indicators to help us monitor their progress. As long as your child wears their aligners for 20 or more hours a day, those indicators will fade away. This allows Dr. Hutta and Dr. Price to see how well your teenager is doing with compliance and help them get back on track if needed.
ORTHODONTIC CARE AT AN OLDER AGE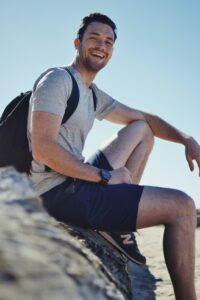 Whether you have never been to an orthodontist before or if you didn't wear your retainer as a child, it is never too late to seek an orthodontist's help. Aligned teeth and bites aren't just cosmetic concerns; they also impact your dental health and overall wellness. For instance, teeth that are crooked may be more difficult to clean, while a misaligned jaw can lead to painful TMJ problems.
TRADITIONAL BRACES AREN'T AN OPTION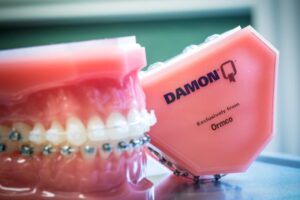 In our office, you won't get the clunky, painful traditional braces of the past. These days, adults have more—and better—options than ever before! If you had braces years ago as a child, you'll be thrilled with Dr. Hutta's and Dr. Price's modern techniques and technologies.
Our orthodontists use Damon self-ligating technology and create custom-fitted parts with Insignia software to ensure you have a one-of-a-kind transformation at any age. These braces are more efficient, comfortable, and discreet than braces of the past. They even come in clear! In addition, our experts can also use Invisalign or Smile Envy 3D aligners to improve dental hygiene, align teeth, and provide a cosmetic boost. Since they are removable, both options are free from the small lifestyle changes that come with braces.
After evaluating your needs, dental health, and aesthetic goals, Dr. Hutta and Dr. Price will create the perfect plan for you, whether it involves aligners or braces. To help us do our job, be open, honest, and communicative with your orthodontist. We are here to support you and your goals—without any judgment!
SMILE RULES FOR EVERY AGE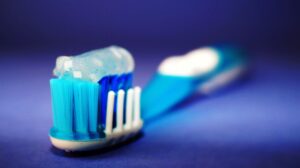 Whether you receive braces as a child or as an adult, there are still several rules that apply to every patient. Firstly, set realistic goals. Braces or aligners will absolutely transform your health and aesthetics—but they cannot whiten teeth, change the shape of your teeth, or fix certain cosmetic issues, like chipping. Those are cosmetic dentistry concerns for general dentists. If you are a parent who wants to get braces, don't expect your plan to be like your child's—children and adults may have different treatment options. Besides, no two plans are ever identical!
Next, you will need to follow Dr. Hutta's and Dr. Price's instructions during every step of your journey. Braces and aligners require compliance to move teeth precisely and healthily. This includes wearing your retainer and avoiding certain foods. No matter your age, maintaining dental hygiene is key for an efficient, cavity-free treatment. If your child has braces, be their biggest cheerleader. Choose braces- and child-friendly foods at home, book them dental appointments and check-ins with their orthodontist, and give them the encouragement they need to succeed.
NO MATTER YOUR AGE—TAKE A TRIP TO THE ORTHODONTIST!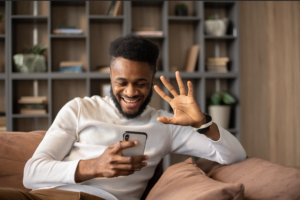 Ready to transform your confidence, teeth, and health with braces or aligners? Get started today by calling our team to set up your complimentary consultation for yourself or your child. By choosing an expert orthodontist, like Dr. Hutta or Dr. Price, you can set up your healthiest future!
NOT READY FOR THE OFFICE? GET YOUR VIRTUAL CONSULT
Interested in improving your health—but too busy with kids, work, or school to book that appointment? For your convenience, we offer virtual consults. Just visit our website, select virtual consult, and take a few pictures of your teeth and bite. We'll ask for your preferences and goals. Then, we'll devise the perfect braces or aligner treatment plan for you. After we've customized your treatment, we'll contact you to review the plan with one of our expert orthodontists. There are never any strings attached!