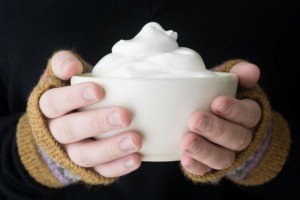 The winter months can be long and cold, but here is our favorite winter treat to warm you up after shoveling the driveway, a long day of sledding, or just dashing from your heated car seats into your house. Whether you're home on a snow day or just looking for a fun activity this weekend, this hot chocolate recipe is a treat to make, as well as eat.
Hot Cocoa
Everyone loves a steaming cup of chocolaty hot cocoa, and you'll love these fun twists on this old staple! Hot cocoa is also one of the friendliest treats for your braces.
Ingredients for your hot cocoa:
3 tablespoons cocoa powder
3 cups whole milk
6 ounces of semi-sweet chocolate chips
3 tablespoons of granulated sugar
Lots of whipped cream
Directions:
Simmer ¾ cups of water in a saucepan over medium heat, and then blend in the cocoa powder until there are no lumps. Add milk, and then whisk in the sugar and chocolate chips until they are melted and you have a smooth mixture. Top with as much whipped cream as you want.
Plain hot chocolate is always good, but you can try spicing up your cup with these additions. And if you don't have time to make hot cocoa from scratch, these are the perfect ways to quickly improve on instant hot chocolate:
Salted Caramel – add a swirl of caramel in your hot chocolate and sprinkle of salt to give your taste buds a tingle.
Maple Syrup – a squirt of maple syrup is perfect for a breakfast of hot chocolate and pancakes on a cold, snowy morning.
Coffee or Espresso – a home made version of a mocha, this spin on hot chocolate is sure to give you a jump start before you take on the sledding hill.
Orange Zest – throw some orange rind (the skin of the orange that you peel off) into your mug for a few minutes before drinking. You'll get some nice fruity flavors, and you'll have an orange peeled and ready to eat.
Peppermint Sticks – drop some peppermint sticks or a small peppermint into your cocoa for a great smell and minty taste. Just remember to not eat the peppermint so it doesn't hurt your braces!
Peanut Butter – thanks to Reese's, we know peanut butter and chocolate go together like braces and a perfect smile, so why not try adding some creamy peanut butter into your hot chocolate. Make sure you stir long enough to get the peanut butter fully blended into the cocoa.
Ice Cream – this might not sound like an addition to hot cocoa that will warm you up, but it's the perfect way to avoid burning your tongue as you curl up by a crackling fire.