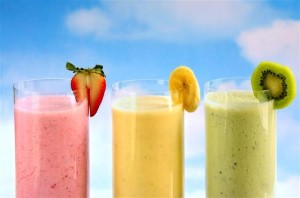 Summer is here and with it comes trips to the pool, the beach, and the park, which are all great settings for family picnics and barbecues. But some of the treats our kids like to snack on in the summer can be harmful for their teeth and braces. So what types of foods are safe for your kids' teeth, and still enjoyable too? while being enjoyable too? Here are some of our favorite recipes that will add to your kids' summer fun, while keeping their smiles healthy!
Fruit salad that's good for your smile! All of the fruit used is great for the health of your teeth:

Grapefruit
Orange slices
Tangerines
Kiwi
Bananas
Combine in a large bowl for your family's next picnic!

Smoothie recipes – a yummy treat. Try substituting a strawberry puree instead of the berries to minimize seeds that could get stuck under your wire!

Triple-Berry: Blend 1½ cups mixed blackberries, strawberries, and raspberries with 1 cup each of milk (or yogurt) and ice.
Strawberry Shortcake: Blend 2 cups strawberries, 1 cup crumbled pound cake, 1½ cups of milk (or yogurt) and ice. Top with whipped cream and more strawberries.
Pineapple-Mango: Blend 1 cup each chopped pineapple and mango, 1 cup coconut water, a dash of ground allspice and 1 cup ice. Sprinkle with toasted coconut.

Soft Tacos – let your kids assemble their own tacos; that way dinner is fun and delicious!

Soft tortillas
Shredded cheese
Braised chicken or beef
Pico de Gallo
Guacamole

BBQ Meatballs – perfect for summer barbecues out on the deck!

You'll need:

1½ lbs. of ground beef
1 egg, lightly beaten
1 cup cooking oats
6 ½ ounces of evaporated milk
¼ cup chopped onion
1 cup ketchup
1 cup brown sugar
1 tsp. salt
½ tsp. pepper
¼ tsp. minced garlic
½ tsp. garlic powder
1 tablespoon chili powder
1 tablespoon liquid smoke flavoring

Preheat oven to 350 degrees F (175 degrees C). Lightly grease a medium baking dish.
In a bowl, mix beef, egg, oats, evaporated milk, salt, pepper, garlic powder, chili powder, and ¼ cup onion. Form into 1½ inch balls and arrange in a single layer in the baking dish.
In a separate bowl, mix ketchup, garlic, sugar, ¼ cup onion, and liquid smoke. Pour evenly over the meatballs.
Bake uncovered 1 hour in the preheated oven, until the minimum internal temperature of a meatball reaches 160 degrees F (72 degrees C).

Breakfast for dinner ­– pancakes and eggs! Your kids will love this twist on meals, and the soft pancakes and eggs are safe for their appliances.
These recipes should bring smiles to your kids' faces, and fill their bellies too!