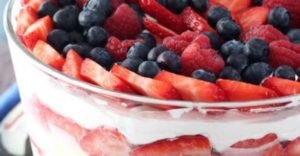 Just because you wear braces doesn't mean you can't still enjoy a delicious springtime treat. We understand the struggle you feel when surrounded by sticky, gooey, and crunchy candies throughout the different seasons and holidays. That's why we have searched high and low for the perfect springtime recipe that the entire family can enjoy!
Triple Berry Trifle
Who doesn't love a fresh berry treat during the spring? Whether you're making it for your family or bringing it to a gathering, this is a recipe that's sure to please everyone at your table.
Ingredients:
Two 3.4 oz. packages instant cheesecake flavored pudding mix*
4 cups milk
Angel food cake (about 12 oz.), cut into pieces
1 cup chopped strawberries
1 cup blueberries
1 cup chopped raspberries
12 oz. Cool Whip (or homemade whipped cream)
Directions:
Add pudding mix and milk to a large bowl and make according to package directions.
Add about half of the angel food cake pieces to the trifle dish.
Top with about 1/2 of the prepared pudding.
Top pudding with about 1/2 cup of each kind of berry.
Top berries with about half of the cool whip.
Repeat steps 2-5.
Finish with additional berries on top.
Refrigerate for about 2-3 hours, until ready to serve.
*could be replaced with vanilla flavored pudding if you can't find the cheesecake flavored pudding