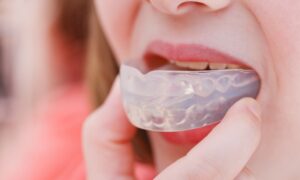 Though some sports are temporarily on hold with the pandemic, athletics are still a big part of many children's lives—in the neighborhood, at home, or recreationally. After a busy day of e-learning or school, many kids love to blow off steam and head outside. However, if your child has braces or aligners, there are several things you need to know to help keep their smile safe during sports!
WHAT SPORTS CAN I PLAY WITH BRACES?
All of them! Staying active is fun and healthy. Fortunately, undergoing orthodontic treatment does not mean that you should stop playing sports. Even contact-heavy sports such as football and basketball are appropriate if you take precautions—namely, wearing a mouthguard. We strongly recommend wearing a mouthguard that fits over your braces for all sports, even non-contact ones like gymnastics and horseback riding. If you are not wearing a mouthguard, brackets can break off, and wires can cut up your mouth. Whether you are hit in the mouth or you trip and fall, oral injuries can be serious and costly if you do not wear protection.
In fact, according to the American Dental Association, more than 200,000 oral injuries are prevented each year by wearing a mouthguard.Plus, a mouthguard helps reduce damage by up to 60 times. This small piece of protective gear can prevent a painful (and expensive!) injury later on.
DO I NEED A MOUTHGUARD IF I WEAR ALIGNERS?
If you wear Invisalign® or Smile Envy 3D, you won't have to worry about metal hurting you during a sports injury. However, even though aligners fit over your teeth, they are not protective. If you get hit in the mouth, you can still sustain serious oral damage while also causing damage to your aligners. Fortunately, we can create an appropriate mouthguard that fits over your aligners to protect your smile. Additionally, do not choose a boil and bite mouthguard if you wear Invisalign or Smile Envy 3D. These mouthguards are closely fitted to your teeth using heat that can warp aligners.
WHAT ELSE CAN ATHLETES DO TO PROTECT THEIR SMILES?
Whether in the gym, on the field, or in your backyard, many young athletes rely on sports drinks and sugary snacks to stay energized and hydrated. However, these snacks and drinks can be very damaging. Surprisingly, sports drinks like Gatorade can actually cause more damage than soda! When it comes to hydration, water is tried and true (and the only thing you can drink while wearing aligners). If your athlete needs a snack, we recommend that they eat it before or after practice, so they have time to brush and floss immediately after.
With a properly fitted mouthguard and these tips in mind, you can keep your braces, teeth, tongue, and aligners safe. If you're ready to find the mouthguard that is right for you or if you need more information, please give us a call today.