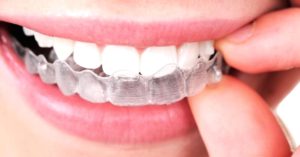 We've heard so many reasons why our patients love us: our friendly, knowledgeable staff; our beautiful office; our flexible appointments; and the time we take to really explain the treatment options and processes. We know that every interaction matters—from that first phone call to the moment we say, "Congratulations on your new beautiful smile!" The time we spend face-to-face with our patients is absolutely invaluable.
But what you may not realize is the priority we place on what happens behind the scenes, too. There are so many fascinating and innovative tools available in orthodontics today. We work hard to stay educated on what's most effective and bring the best of those options to our offices. In fact, whenever possible, we avoid using outside labs for orthodontic appliances. Our cool technology distinguishes us from other orthodontists.
iTero Element Intraoral Scanner
The journey to a beautiful smile begins by obtaining an accurate picture of the current state of your jaw and teeth. Many providers do this by having you bite into putty-filled trays and creating physical models of your teeth. These trays of goo can create a lot of anxiety for patients and sometimes cause a gag reflex. We've eliminated this anxiety by offering a much more accurate option in the iTero Element intraoral Scanner.
With iTero, we can digitally capture a detailed 3-D model of your teeth and gums. First, we scan your teeth and then we perfect those files with our imaging software, Netfab. Not only is a digital scan far more comfortable than the old putty-based impressions, it's faster and provides images that are more precise.
But that's just the beginning of the list of benefits. Here are some other things our patients love about the iTero Scanner:
The Invisalign Outcome Simulator. How much more motivated would you be to start treatment if you had a picture of what the results will be? The iTero works with the Invisalign system to do just that! Our patients love getting a sense of what their beautiful smile may look like after a successful course of Invisalign treatment.
Versatility. The iTero launches the work of an array of our orthodontic interventions: retainers, clear aligners, and appliances.
Quick and accurate. With the iTero, our patients get to instantly see a 3-D model of their teeth before and after treatment. Also, research shows a digital model re-creates your teeth with more accuracy than impressions, which helps get better results faster.
3-D Printing with the JUELL 3D-2
Did you know that James T. Hutta Orthodontics was one of the first practices in Ohio to use a 3-D printer in-house? It's definitely a point of pride for us. We're also excited to share our most recent upgrade to the JUELL 3D-2 printer. Among other 3-D printers in its class, the JUELL ranks the highest on both resolution and accuracy.
So what does owning the JUELL 3D-2 mean for our patients? Check out this list of awesome advantages:
Faster turnaround time. By having a 3-D printer in our office, we bypass the middle man. This allows our experienced lab technicians to fabricate your custom retainers, clear aligners, or appliances faster than using an outside lab.
Easily replaced retainers. No more panicked digging in the trash when you accidentally throw away your retainer. Well, okay, go ahead and take a look for it—but skip the panic because we can print you another one easily! Remember those iTero scans? They're all still on file! You don't even need to come in for a new scan if you inform us right away that another retainer is needed.
Quality assurance. Your appliances are made with the highest level of precision, accuracy, and comfort by our own staff to save you time and money.
Drufomat Press Machine by Dentsply
One of our favorite machines in the office, the Drufomat Press Machine, gives us the power to create clear retainers, bleaching trays, athletic mouth guards, and clear aligners for our patients. We love having the ability to press, trim, and polish your new appliances ourselves. It not only allows us to assure the quality of your new mouthpiece, it also saves you time and money by reducing lab costs.
Instrumentarium 3-D CBCT X-ray Unit
We recently invested in a brand new Instrumentarium 3-D CBCT X-ray unit. We love it for its high quality 2-D and 3-D diagnostic images and its "Low Dose Technology" (LDT) scans. LDT delivers optimized cone beam scans at a radiation dose up to five times lower than typical 2-D panoramic x-rays. Having the Instrumentarium on site also means no extra trips to an imaging center, and it allows us to provide full and accurate assessments of our patients' teeth and jaws. We are able to catch disease and pathology that a 2-D x-ray may have missed. We are also able to capture high-quality images of the airway and TMJ to address any concerns our patients may be having.
EasyRx Orthodontic Prescriptions
With all this awesome technology comes the need to properly store our patients' electronic files and lab prescriptions. The extensive information acquired by our scanners and printers must be easily accessed again if, for example, we need to make a replacement retainer. As we progress through your treatment, your files are safely and efficiently stored by the EasyRx electronic system. EasyRx also allows us to communicate with our in-house and outside labs digitally. This means better communication and less paper waste!
Excited yet?
We hope you are impressed by the advantages that come with keeping so much technology within the walls of our practice. Investing the time and money to equip ourselves with the skills and machinery to make your appliances on-site was an easy decision for us—there's just no better way to assure quality products and outcomes for each of our patients. There is, however, one thing we love more than that technology—your smile! Thank you for trusting us with it.