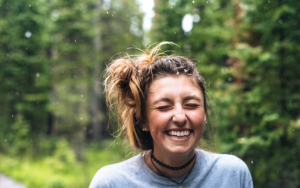 Life is full of moments worth celebrating. So, make sure the next time you break into a smile, it's a smile you love! Even after getting treatment as teens or children, adults often find their smiles will shift with time. This can happen if former orthodontic patients forget to wear their retainer or as people age and the jawbones, teeth, and bite naturally change.
You might not think to go to an orthodontist for a slight misalignment—especially if you don't want the look, cost, and time commitment of braces. Luckily, our office has created the perfect option for you! With Smile Envy 3D, we can deliver fantastic results more affordably, discreetly, and quickly than other treatment options.
WHAT IS SMILE ENVY 3D?
Our office is committed to constantly learning and integrating the best technologies for comfortable, hassle-free results. This approach is how Dr. Hutta and Dr. Price first designed the Smile Envy 3D treatment. This clear aligner service is custom printed in the office and personalized for your smile needs. Suitable for patients with minor orthodontic concerns, it is ideal for those who want a quick touch-up rather than a full orthodontic treatment.
HOW SMILE ENVY 3D WORKS
During your complimentary first exam, we will use our onsite 3D scanner to take a closer look at your teeth—without needing to use dreaded gooey trays. Using the information from your scan, we will get to work designing your custom treatment plan to help your smile shine. With our Smile Envy 3D lab, we can print your clear aligners in the office for a fast turnaround—from your first appointment to launching your treatment. We will continue to work with you to monitor your progress and make sure that you stay on track for the smile of your dreams!
CONVENIENCE
Clear aligners have long been the favorite option for those who want to straighten their teeth—without the extra lifestyle changes that braces bring. Perfectly crafted for your needs, Smile Envy 3D clear aligners are practically invisible, allowing you to take care of your orthodontic health discreetly. Beyond aesthetics, clear aligners are easier to take care of than braces. Pop your trays out at mealtimes and enjoy whatever you're craving. Just make sure to brush your teeth before sliding them back in and you are good to go!
It can be hard to squeeze in orthodontic treatment between all your other commitments. But with Smile Envy 3D, you can enjoy fewer appointments in the office, saving you time. Treatment with clear aligners is efficient and effective. With an orthodontic touch-up via Smile Envy 3D, you'll enjoy your results in no time at all!
TOUCH-UP YOUR SMILE
Revamp your smile on your schedule. Book an appointment with our experts by calling 614.855.8800 or click our Virtual Consultation tab to enjoy a complimentary first consultation from the comfort of your home. We'll work by your side to create a smile that will last a lifetime!