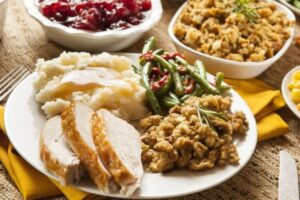 Here at James T. Hutta Orthodontics, we want to wish you a happy Thanksgiving! We hope you will have the opportunity to enjoy some quality time with your friends and family, and also eat some delicious food! If your child has braces, you might be worried about prepping a meal that will be safe for them to consume. Luckily, with plenty of delicious braces-friendly foods, you won't have to leave anyone out of the Thanksgiving Day feast. Here are some safe-to-eat holiday classics recommended by Dr. Hutta and Dr. Price:
Sweet potato casserole: Everyone loves this classic holiday dish smothered with brown sugar, or perhaps even marshmallows! Because it's so soft, this casserole is perfectly safe to consume with braces. Feel free to let your child indulge in this sweet treat—just make sure they brush and floss afterward.
Mac and cheese: Another delicious and soft food, mac and cheese is a great addition to your braces-friendly Thanksgiving feast.
Stuffing: A holiday classic, stuffing is great for a child with braces. Just be sure to leave out any walnuts or pecans this year. Biting into one of those crunchy nuts could damage your child's brackets or wires.
Turkey and ham: As long as turkey and ham are removed from the bone and cut into small, bite-sized pieces, these tender and juicy meats should be perfectly fine to consume with braces.
Mashed potatoes: Another indulgent Thanksgiving dish, soft and delicious mashed potatoes won't cause any damage to your child's orthodontic appliances. So, bring on the gravy!
Pie filling: Just because your child has braces doesn't mean they'll have to miss out on everyone's favorite part of Thanksgiving—dessert! Although they're better off avoiding the crispy crusts, they can still enjoy the sweet filling of pumpkin pie.
As with any meal, it's important that your child brushes and flosses after finishing up at the Thanksgiving table. If you're going to be eating at a friend or relative's house, remind them to pack a travel toothbrush. No one wants to have leftovers caught in their brackets and wires!
If you have any questions or concerns about cooking for the upcoming holiday, give our office a call. And from all of us here, we wish you a happy Thanksgiving!