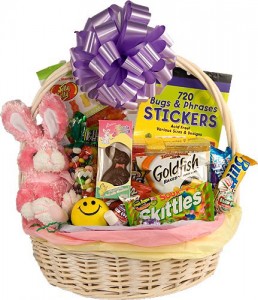 We all love candy. Even us orthodontists. But if you or your kids have braces or other orthodontia work, there are some candies you'll want to avoid in your Easter basket this year!
Easter baskets are full of caramel bunnies, chocolate covered nuts and chewy candies that can wreak havoc on braces. So here are the candies to stay away from:
• Hard candies
• Nuts
• Caramels
• Licorice
• Jelly beans (so hard, we know!)
• Taffy
• Bubble gum
But don't worry. There are still braces-safe treats and Easter basket ideas for your kids to enjoy. Here are some ideas that will spark a happy and healthy smile come Easter morning:
Themed Easter Baskets
Does your child love sports? Painting at the kitchen table? Baking and cooking? Or maybe they love nature? Whatever your child's personality, create a basket with a fun theme.
For kids who love nature, create an Easter basket with spring flower bulbs, seeds, gardening gloves and a colorful shovel.
If your kid loves arts and crafts, fill a basket (or even a paint bucket!) with sketch pads, pencils, paint brushes and paints.
If they love sports, fill a basket with baseballs, tennis balls, a new basketball net or even some new work out gear.
If your kid is a chef in training, find a colorful mixing bowl and fill it with family recipes, an apron, mixing and tasting spoons and a few ingredients to make a spring treat.
Whatever their hobbies or passions, creating a themed basket will help them forget about all the sweet treats they cannot eat.
Toys or Games Instead of Candy
Replace treats with non-edible presents like a favorite toy or game. For older kids, swap jelly beans and caramels for iTunes and Amazon gift cards or even a bright spring nail polish. Find little gifts that fit their likes and personality.
Make a Homemade Treat
While there still are some candies kids can enjoy come Easter morning (soft chocolates like Hershey Bars, Hershey Kisses, Reese's Peanut Butter Cups, Mounds and 3 Musketeers are perfectly fine), try making a homemade treat! A baked good is a great and fun alternative to the sticky stuff and you can ensure everything that goes into it won't hurt their braces. Create spring-themed cupcakes by topping white icing with coconut dyed a bright green to look like grass. And there's always the classic bunny cake! A homemade treat will keep kids busy baking and decorating instead of looking for candy that can damage their braces.
We hope the Easter Bunny is good to you and you don't have to "hop" into our office for a repair.