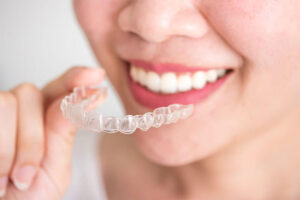 March 6 marks Dentist's Day, a time to show appreciation for dentists, dental innovations, and the ever-evolving field of dentistry! One advanced treatment tool we are grateful to use in our practice is Invisalign, a discreet and convenient way to transform your smile with clear aligners. Dr. Hutta and Dr. Price have treated over 2,000 patients with Invisalign and are proud to be in the top 1% of Invisalign providers worldwide. Read on as we break down everything you need to know about Invisalign for Dentist's Day!
WHAT IS INVISALIGN?
Invisalign is an advanced aligner system that is used by Dr. Hutta and Dr. Price as an alternative to traditional braces. Orthodontists have transformed millions of smiles using the Invisalign system over the last 20 years. This orthodontic treatment involves wearing nearly invisible aligners that are custom-made for you. These aligners have the same effect as braces—though they are more discreet and don't have any food restrictions since you can easily remove them.
Likewise, you do not have to make any big changes to your current dental hygiene routine. Just brush and floss after eating anything, then put those aligners back in! By guiding teeth into their proper alignment tray by tray, Dr. Hutta and Dr. Price deliver a healthy, beautiful smile that boosts confidence and dental health.
HOW DOES INVISALIGN WORK?
Undergoing Invisalign treatment with Dr. Hutta and Dr. Price is comfortable and convenient. First, we evaluate your jaw and tooth position and find out what the problem is. Next, Dr. Hutta and Dr. Price prescribe a treatment for you which may include the use of Invisalign aligners. We digitally scan your teeth using state-of-the-art 3D scanners and create a series of aligners designed specifically for you. Then, we ask you to do your part! Wear your aligners for 20 hours or more a day and switch them out after every week or two. These aligners slowly but surely move your teeth into their right places, ending with you having perfectly aligned teeth and a beautiful smile.
Dr. Hutta and Dr. Price are also certified Invisalign Teen providers. Dr. Hutta and Dr. Price are prescribing Invisalign treatment to teens more than ever. Teens are becoming more conscious about their looks and appreciate a clear option during treatment as well. They love the increased comfort, lack of food restrictions, and more aesthetically pleasing look.
GETTING YOUR HEALTHIEST, HAPPIEST SMILE
If you are looking for a reason to be grateful this Dentist's Day, look no further than the advanced treatment by Dr. Hutta and Dr. Price using Invisalign! Fortunately, even if Invisalign is not prescribed to you, we are proud to offer the best treatments available, including smile makeovers with Smile Envy 3D aligners and Damon Braces.
To learn more about our technology and treatments, visit our website, or call us today at (614) 855-8800.