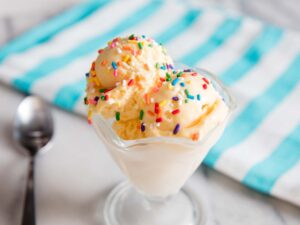 National Ice Cream Month arrives during the grueling summer, and not many other refreshments can offer a remedy to heat like ice cream! This rich, creamy, frozen delight can cool you off and satisfy all your cravings. However, if you or your children recently got braces, you might be wondering if ice cream is safe to consume. Here is our list of dos and don'ts for eating ice cream safely during orthodontic treatment.
DO: Eat ice cream! Ice cream is soft and safe to consume with braces. Plus, it contains calcium, which can help strengthen your teeth.
DON'T eat too much ice cream. You might have heard the saying: "Everything is good in moderation." Well, that is perfectly applicable when it comes to ice cream! Ice cream is full of sugar, which can contribute to tooth decay, gum disease, and cavities. So, you should probably avoid overeating it or adding more sugary toppings to it, like chocolate sauce, candy, and caramel. Sugar-free ice cream might serve as a good alternative if your cravings are recurring frequently.
DO: Brush your teeth after eating ice cream. This helps prevent tooth decay as it cleans off the sugar from your enamel. Although, brushing too quickly after eating ice cream can damage your enamel, too. We recommend that you ideally brush your teeth 30 minutes after eating—don't forget to floss!
DON'T get toppings stuck in brackets as they may cause brackets to become loose or even break off. You should always avoid hard toppings, like nuts, or chewy/sticky ones, like marshmallows or candies. If toppings do end up getting stuck in your brackets, try to remove them carefully using a toothbrush (Pro tip: Always have a travel toothbrush with you while you have braces). If you do not have access to a toothbrush, rigorously rinse your mouth with water to get rid of those pesky particles.
DO: Remove your retainers/aligners before eating ice cream. Although it is possible to eat ice cream—especially soft serve—without removing your retainers, it is not recommended. You should remove your retainer or aligners before eating anything, clean them, and put them on after brushing your teeth.
Even with these precautions, tooth decay can happen—especially if you aren't diligent with your oral hygiene habits. To ensure good oral health, remember to book your dental checkups at least twice per year. It's essential to have a healthy smile for your best orthodontic result! If you have any questions or need more advice, call our team today at (614) 855-8800 or visit our website.