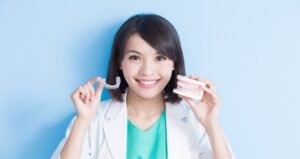 Orthodontic technology is always evolving as we work to find the most advanced and effective ways to align your teeth. With new options and technologies, there are so many different ways to improve the function and appearance of your smile, so the choices might seem a little overwhelming. Luckily, Dr. Hutta and Dr. Price will select which treatment option is best for you, creating a treatment plan based on your teeth alignment and smile goals.
We've broken down some of the key differences between traditional braces and clear aligners—the two most popular types of orthodontic treatment.
Visibility
Clear aligners are thin, plastic-like trays custom-fitted to your teeth, so they are virtually invisible. This is a more discreet orthodontic option; however, many people have fun picking out the colored bands for their braces treatment! Clear braces are also available if you are looking for a less noticeable option.
Removability
Clear aligners are removable—you take them out to eat and brush—while braces are fixed to the teeth. The removability of aligners is nice when a special occasion arises, but one must be disciplined when undergoing aligner therapy as 22 hours of wear each day are required for a successful and timely treatment. In contrast, braces are not removable, which makes them ideal for an individual who wants a less compliance-driven option.
Hygiene
Taking aligners out to brush and floss makes your hygiene routine a lot simpler with clear aligner therapy; however, you are not exempt from the risk of tooth decay with clear aligners. Since these aligners cover the teeth, bacteria and plaque can become trapped between the tray and teeth, particularly if you consistently consume sugary beverages or snacks while wearing your clear aligners. Brackets and wires on braces can make it more difficult to properly clean the teeth. However, it's simple once you get the hang of it. Either way, all orthodontic treatments require a good oral hygiene routine for the entirety of the treatment.
Timeline
If you wear your clear aligners exactly as prescribed, this treatment can typically be as efficient, if not more efficient, than treatment with braces. However, if you are not wearing your aligners for the recommended number of hours per day, it will delay your final outcome. The efficiency of treatment with braces relies more heavily on good oral hygiene and making sure to not break your appliances.
On the journey to your best smile, Dr. Hutta and Dr. Price will examine all aspects of your teeth, smile, and bite, and provide the very best treatment option possible. Sometimes that means braces, clear aligners, like Invisalign® or Smile Envy 3D, or a combination of the two treatments. If you want to discuss these options further, schedule an appointment with Dr. Hutta and Dr. Price today at 614-855-8800 or click our Virtual Consultation button to connect with our experts in the comfort of your own home. We can't wait to help you transform your smile and your confidence!