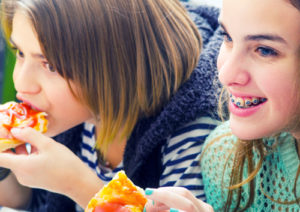 In the whirlwind of shopping for school supplies, clothes, and groceries, a balanced braces-friendly lunch can fall to the sidelines. So to help you make back-to-school a little less overwhelming, we've searched high and low to bring you four mix-and-match brown bag lunch ideas that will keep students smiling and their braces safe.
Lunch #1: PB&J on whole wheat bread with sides of cucumber slices, yogurt or ranch dip, and string cheese
Peanut butter is a great source of protein and fiber, while cucumber is one of nature's toothbrushes. Cheese is high in calcium and phosphorus, which promote strong tooth enamel. For an added boost, whole wheat bread contains more natural vitamins, minerals, and fiber than white bread. Pro tip: toasting your bread slightly may make your sandwich less crumbly and less likely to stick to braces!
Lunch #2: Turkey and cheese rolled together with sides of apple slices and Greek yogurt
Turkey, cheese, and Greek yogurt power this protein-packed meal. We advise patients to avoid whole apples to protect braces, but cutting up these fresh fruits makes them braces-friendly. Apple slices are high in fiber and fun to eat, while still providing a braces-safe crunch.
Lunch #3: Bean salad with sides of melon wedges, blueberries, banana, and reduced-fat cheddar cheese cubes
Beans can provide the foundation for a balanced lunch with their high density of protein, and melons and bananas contain fiber.
Lunch #4: Sliced hard-boiled egg with sides of bell pepper, strawberries, and a mini corn muffin
For this lunchbox, eggs provide the protein, bell pepper and fruit contain fiber, and a mini corn muffin is a teeth-friendly alternative to packaged sugary desserts.
A nutritious midday meal ensures students have the energy and focus needed for the entire school day and it can even have a positive impact on their report cards. Packing a braces-friendly school lunch doesn't have to be difficult or expensive as long as you plan ahead and encourage the entire family to help choose from a variety of healthy options. You're well on your way to that perfect smile!