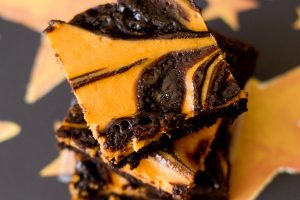 We know how tempting Halloween candies are around this time of year. Hard, chewy, sticky, and crunchy candies are tough on your braces and teeth in general. That's why we want to share our favorite braces-friendly recipe with our patients: the Halloween Cream Cheese Swirl Brownies! The orange cheesecake swirled on top of rich, dark chocolate brownie gives off a creepy, spidery look—but don't worry, this is one "spider" that won't bite back!
Brownie Layer
1 stick unsalted butter, melted
1 cup sugar
1 teaspoon vanilla extract
1/4 cup cocoa powder
Pinch salt
1 tablespoon warm water
1 teaspoon apple cider vinegar
2 eggs
3/4 cup all-purpose flour
Cream Cheese Layer
8 ounces cream cheese, softened
1/4 cup sugar
1 egg
1/2 teaspoon vanilla extract
Orange food coloring
What to do:
Preheat oven to 350 degrees. Butter an 8 x 8-inch baking pan, and set aside.
Brownie layer: Add melted butter to a large bowl and add the sugar, vanilla, cocoa powder, salt, warm water, and vinegar, in that order, mixing between additions.
Whisk the eggs in a small bowl and stir it into the cocoa mix.
Fold in the flour until lightly combined.
Pour the batter into the prepared baking pan, saving 1/4 cup of the batter for the top.
Cream cheese layer: Blend together the cream cheese, sugar, egg, vanilla, and food coloring in a medium bowl. Then gently spread the cream cheese layer on top of the brownie batter in the pan and dollop the remaining brownie batter over the cream cheese layer.
Using a skewer or the tip of a knife, drag the tip through the cream cheese mixture to create a swirl pattern.
Bake the brownies for 30 minutes. Remove to a cooling rack and allow them to cool completely before cutting.
ENJOY! And always remember: rinse your mouth with water after eating sugary food.