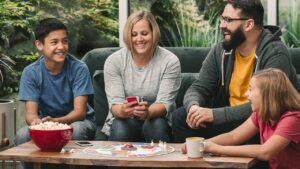 We love being able to keep in touch with you. And, even though our office is temporarily closed, we are still here for you. We are staffed during regular business hours, so do not hesitate to call us if you have any emergency orthodontic problems or if you have any questions. We are always happy to help!
NAME OUR FISH CONTEST
Want to spread smiles, name our fish, and help support local Columbus restaurants? Enter our latest contest… you could win a $50 gift card for delicious takeout at a local restaurant! To enter, just comment your favorite fish names on our contest posts—either on Facebook (@huttaorthodontics) or Instagram (@jthorthodontics). Be sure to check out Dr. Hutta's video first to see the fish you're naming. We can't wait to hear your creative names—don't miss out! We'll be drawing several lucky winners soon.
5 SCREEN-FREE ACTIVITIES
As we enter another week of social distancing, you may be looking for some ways to keep your kids occupied while limiting their screen time! After all, kids are logging in several hours of virtual school each day. We've put together five simple things you can do to cut back on electronics while keeping your family smiling.
Write thank-you notes. We believe in spreading smiles whenever possible! So, take the time to teach your kids the importance of gratitude. Encourage them to write or draw thank-you notes that you can later hand out to doctors, nurses, grocery store workers, or your postal worker.
Stay active together! Stay healthy and active by completing a workout video together or by playing sports. If you do choose to play sports, make sure your kids are wearing a mouthguard—especially for activities, like baseball or soccer, that can lead to tripping, falling, or getting hit with a ball.
Read a book. Encourage your kids to pick up a book—now is a great time to help support local authors!
Books for middle grades:
Want a story about changing the world? Check out Hope: Project Middle School, by Alyssa Milano and Debbie Rigaud—a story about an 11-year-old who never gives up! Buy it on Amazon, Barnes & Noble, or shop locally by ordering from Book Loft online.
Ready for a fun novel about being yourself? Buy Trading Faces, written by Julia DeVillers, a story about twins who switch places in middle school, on Amazon, Barnes & Noble, or Book Loft.
Love tween girl power and superheroes? Also written by Julia DeVillers, you can purchase UltraSquad on Amazon, Barnes & Noble, or Book Loft.
Young adult novels:
Play board or card games. Pass the time with a family game night. If you are getting tired of the same games, challenge your family to learn a new game each week!
Make a chore chart. With all the extra hands at home, get some help with spring cleaning by starting a chore chart. Be sure to include "chores" like proper brushing and flossing, too!
We hope you enjoy these fun ideas as you stay at home. Be sure to keep in touch by following us on social media. We will be sharing even more ideas to help you schedule some time to unplug!