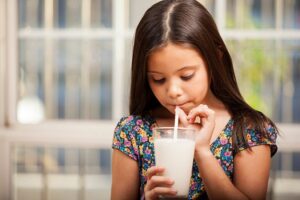 It's hard to believe it's already September! We've officially passed Labor Day, so it's time to put away those white pants and get back into the swing of the school year. One of the most important things you can do to ensure your child's success this academic year is to provide them with healthy and nutritious meals and snacks! Food nourishes us physically and mentally, and it helps your child focus and learn in the classroom. However, if your child has braces, it might seem difficult to find foods that are both nutritious and safe for their braces. That's why Drs. Hutta and Price have compiled a great list of braces-friendly after-school snacks to fuel your child through all their homework and extracurricular activities!
1. BANANAS AND PEANUT BUTTER
Bananas are soft enough to bite into with braces, and the addition of peanut butter packs in that protein punch to help your child power through their busy schedule.
2. YOGURT
Delicious yogurt won't cause any damage to the wire or brackets of your braces. Additionally, yogurt is rich in calcium, which can help strengthen your child's teeth. Best of all, yogurt comes in convenient, portable packaging—great for a kid who is on the go!
3. LUNCH MEAT SLICES
Although your child shouldn't be biting into steak or chicken legs during their orthodontic treatment, that's no reason to miss out on protein-filled meat. Let your child snack on some thin slices of chicken, turkey, or ham from the deli. They'll still be able to absorb all that protein without risking damage to their braces!
4. SMOOTHIES
Smoothies are a nice, refreshing treat for those September days when it still feels like summer outside! Throw some fresh or frozen fruit, veggies, and yogurt into the blender to make a delicious, nutritious, and drinkable snack for your child with braces. Just be careful with seeded fruits like raspberries—those seeds could easily get caught in braces.
5. APPLESAUCE
Applesauce is a great treat for a child with braces! It's easy to eat and is a tasty alternative to sugary sweet pudding cups (which might leave your child crashing too quickly). Always check to make sure your applesauce isn't full of added sugar, which provides an environment for bad bacteria to thrive in the mouth.
We hope you're enjoying the school year. If you have any questions or are looking for more snack suggestions, give our office a call today!