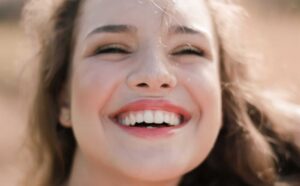 June 15th is Smile Power Day! This holiday is celebrated to showcase the power that a smile holds. This wholesome event focuses on bringing us all together through good vibes and happiness! To make the most of the holiday, we have made a list of three things to do to boost your smile and share it with others:
1. COUNT YOUR BLESSINGS:
We know that these are trying times for many of us. However, even in tough times like these, it is important to look at the bright side! After all, smiling is shown to boost our happiness and health. On this Smile Power Day, give yourself a reason to smile by counting your blessings—your friends, your family, and your community. Focus on anything that betters your day, even something as small as seeing a beautiful, clear sky.=
2. BE KIND:
On a day that is focused on elevating everyone, give those around you a reason to smile. Greet your neighbors politely, engage in heartwarming conversations, write notes to your loved ones! All these little gestures can greatly improve someone's day. What better day to start doing good for others than on Smile Power Day?
3. BOOST YOUR SMILE'S HEALTH:
Good oral hygiene is imperative in building and maintaining a beautiful smile—especially when you have braces or aligners! Remember to brush your teeth and floss regularly to prevent the buildup of plaque and bacteria. Try to avoid consuming an excess of foods and drinks that damage your teeth or get stuck in braces, including those with high amounts of added sugar, like soda and sticky candy, or high amounts of citrus, like lemon or lime. They make your teeth more susceptible to decay over time. Swap these out with foods rich in calcium and phosphorus, such as dairy, eggs, and leafy vegetables. And, as always, remember to get frequent dental checkups to ensure your teeth are staying clean and healthy during your orthodontic treatment.
At Hutta & Price Orthodontics, we offer a range of services like Damon™ Braces, Smile Envy 3D, and Invisalign® to give you your healthiest, happiest smile! Ready to get your perfect grin for Smile Power Day and every other day? Call us now at (614) 855-8800 to book your appointment with our orthodontic team. We hope you're able to spread joy and plenty of smiles today!