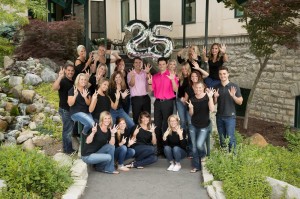 To my James T. Hutta Orthodontics family,
I am excited to celebrate 25 years of creating beautiful smiles throughout the Central Ohio area this month, and I know this milestone wouldn't have been possible without the support of my incredible staff and wonderful patients like you.
When I opened my orthodontic practice 25 years ago in Gahanna, I could not have predicted that I would now be treating the children of some of my very first patients. Treating generations of families is an honor I do not take lightly, and I thank you for entrusting me with your smiles.
I want to be able to give each and every one of my patients the best and most personalized experience possible. Throughout these last 25 years, I have been lucky enough to utilize the latest and greatest technology available in orthodontics. Most recently, our office began using a 3D printer to create highly customized aligners for our patients to help straighten their smiles without braces. It has been incredible to watch how the field of orthodontics has changed since I opened this practice. My staff and I can't wait to see how technology continues to evolve and improve over the next 25 years so we can be even better equipped to help you attain your best smile.
Thank you to my extremely supportive staff. Your commitment to providing the very best care to our patients is extraordinary, and I couldn't do it without you. To my patients and their families—watching you and your smiles grow over the years has been a privilege that I appreciate daily. Every single appointment and smile makes my day that much better. Thank you for making it easy to love what I do and for bringing a smile to my own face for the last quarter century. I love being a part of this wonderful community, and can't wait to celebrate many more smile milestones with you and your family over the next 25 years.
All the best, and we'll continue to Love That Smile!
Warmest,
Dr. James T. Hutta